Mt. Olympus
DATE:
February 3, 1998
WEATHER:
cool, very clear, excellent hiking conditions
HIKERS:
Daryn Ohta, Grant Tokumi, John Takeuchi
---
Pictures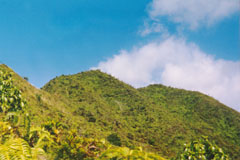 Picture of the Mt. Olympus summit.


---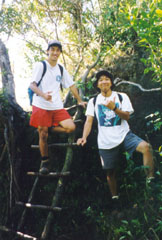 We found this very nicely crafted ladder to aid in climbing this rock. Maybe someone's Boy Scout Eagle Project? Good job to whoever constructed it.


---

A shot of my home, Manoa Valley. Can you see my house? Its right there in the picture.


---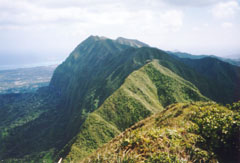 The Koolau Range,


---

The beautiful weather allowed us to capture some awesome scenery, and John ia expressing his appreciation. This picture is looking towards town. Koolau range is on the left (the above picture used in this panoramic), and Ka'au Crater can be seen in the middle along with Palolo Valley. Diamond Head is in the far distance.
---

This picture is looking in the other direction, towards the Windward side. Konahuanui is the highest peak on the left side, Olomana is towards the right.
---
What beautiful weather! This weekend has had some of the best weather I've ever seen on my hikes. The ground was very dry so we weren't sloshing through mud swamps and the inclined mud step areas weren't too slippery. The skies were blue with no clouds to blockout the wonderful views. The hike starts at the top of St Louis Heights at Wa'ahila Ridge State Recreation Area. Its maybe an intermediate level hike with little climbing areas. At the summit, the Koolau Summit Trail looked well established. There was another higher peak to the right, but there was no opening there to enjoy the Windward side views while we chowed down our Zippacks, so we opted to return to the previous peak. We were even tempted to continue on the Koolau Summit Trail to Ka'au Crater (to the right) or to Konahuanui (to the left).

We started at 9:45am and the entire trek took 6 hours 40 minutes including a few breaks and lunch.


Recommended book for hiking directions on Mt. Olympus
---
Hawaii Hiking Gallery Homepage
---
Custom Search
Email me at: grant@tokumi.net