DATE:
March 8, 1997
WEATHER:
sunny, clear, slight winds,
HIKERS:
Daryn Ohta, Grant Tokumi, David Koseki
---
Pictures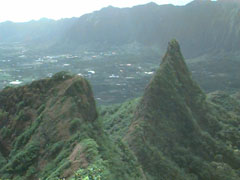 A view from the first peak looking at second and third peak.


---

Panaramic view of Kailua, Enchanted Lakes area from the first peak
---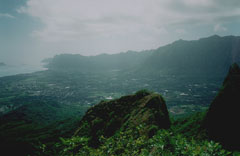 More views, this time looking at the Koolaus.


---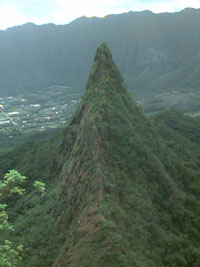 A view from the second peak preparing to take on that third peak. Even though the third peak doesn't look very far away, it still took us 1.5 hours from the second peak to third peak.


---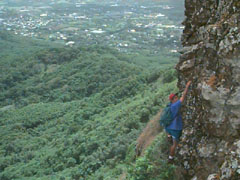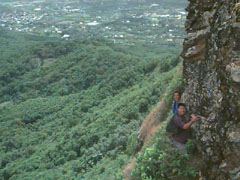 Daryn and David, the rock climber maniacs. Don't worry, the trail goes around this wall, not "up" it.
---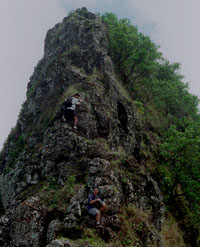 Climbing our way to the third peak.


---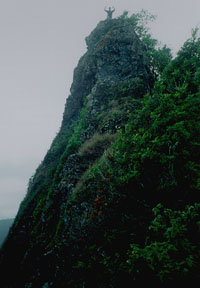 We made it!!! Let's Eat!!!


---
David enjoying his Zip Pak while resting before our return trip.


---
Looking back at the first and second peaks. That narrow ridge is the trail to get to and from the third peak.


---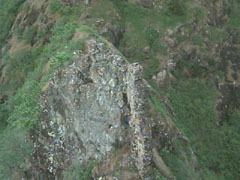 This is one of the more scary parts of the hike here. We had to walk and climb around that huge rock, at least we didn't have to climb OVER it.


---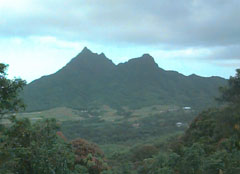 View of Olomana off the Pali Highway hair pin turn. Third peak (if it is third peak) looks really different from this angle.


---
The views are incredible, overlooking the windward coast from Kailua all the way to Makapuu. The strange steep profile of the third peak also makes an interesting site. The trail to the first peak involves some mild rock climbing with the aid of ropes, but is not too dangerous. You can capture all the views from the first peak already, but the trail does continue to the second and third peak if you want to continue. The view at the second peak doesn't get better because trees block a lot of the views. Going from the second peak to the third peak is the most treacherous part of the hike. But when you see it, it kind of calls to you, "Come to me, climb me". The pictures can probably show how narrow the ridges are, and some parts require some nerve testing rock climbing. Luckily some ropes are laid out to help in some of the dangerous areas. Be very careful if you attempt the hike to the third peak. However, the reward and feeling of self -accomplishment is well worth the effort.

The entire trek took us 6 hours; 3 hours in, a 1 hour lunch break, and a 2 hour return trip. The return trip would probably be shorter (because its mostly downhill), but we took some long break coming back.


Recommended book for hiking directions on Olomana
---
Hawaii Hiking Gallery Homepage
---
Custom Search
Email me at: grant@tokumi.net