Date: February 19, 1996

Weather: sunny, dry, medium winds, cold

Hikers
Ryan Souza
Christina Tollinchi
Kamal Pope
Jeremy Blossey
Amber Sudduth
Grant Tokumi
---
Pictures
Most of the hiking is down a stream bed like this. But I think we went in on a very dry day. The stream probably flows more than this on a normal day. Mountains close in as you approach the swim hole. Heres Amber and Christina making their way down the stream bed.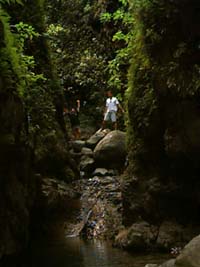 Kamal and Jeremy celebrating as they reached the first pool.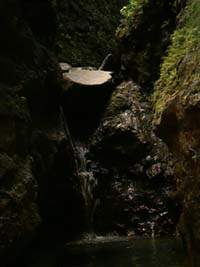 Another small pool and waterfall around the corner of the previous picture. There is another swim hole and a bigger waterfall (30ft?) above this one. I hear there are even more waterfalls and pools (maybe 6 all together) above that one too. But to get to each one you have to scale the high waterfalls with ropes.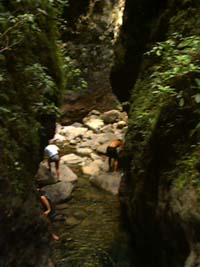 Another view of the first pool.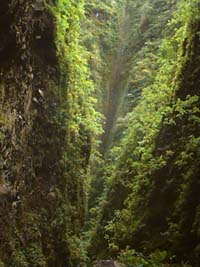 Wow! Nice picture of the gulch. You can see how close the mountains come together. The dark area going straight down the back mountain is a dried up waterfall. I wouldn't want to be here when that guy is flowing.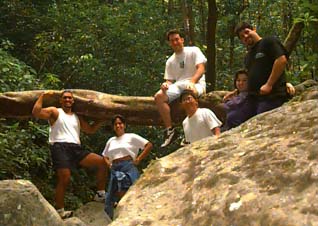 Group shot of all of us.
Ryan
Christina
Kamal
Grant
Amber
Jeremy



---
We took a total of 4 hours to complete the hike. The trail seemed to get busier later in the day. The most spectacular views were the mountains going straight up on either side of you. I've never seen anything like it.

NOTES:
I wouldn't attempt this hike when it is raining or is threatening to rain. Flash floods must happen often here because the channel is so narrow. And algae growth on the rocks suggest that the stream levels can get very high. But the worst thing is if you get caught in a flash flood, the sides just go straight up so there is no higher ground to run to.

May 7, 2001 - Unfortunately, the Ma'akua Gulch trail remains closed to the public indefinitely after the tragic 1999 Sacred Falls Landslide. "Located a valley over in the Hauula Forest Preserve, Maakua Gulch shares similar geographic features with Sacred Falls, prompting the state to close it after the Sacred Falls disaster."(Honolulu Star Bulletin)

Recommended book for hiking directions
---
Hawaii Hiking Gallery Homepage
---
Custom Search
Email me at: grant@tokumi.net