Date: February 9, 1997

Weather: overcast, dry, medium winds
Hikers
Daryn Ohta
Terri Miyazu
Grant Tokumi
---
Pictures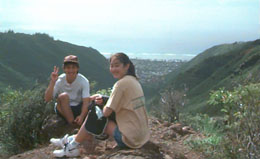 Our first rest stop, overlooking the Hawaii Kai area.


---
Thats the Portlock area beyond the mountain.


---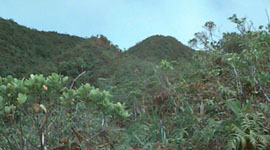 We are almost at the top of the ridge. Around 20 more minutes to go. There is a slight glimpse of other hikers on that middle mound on the dirt area (the white spot). A rope is layed out in that area to climb that hill.


---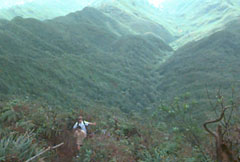 We are just about at the summit now.


---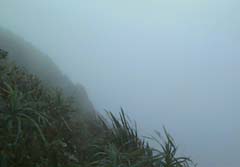 WHAT A VIEW!!!! This is a view overlooking the Koolau range. Unfortunately, the overcast blocked our spectacular view that day. You should be able to see the triple peaks of Olomana and also the Kaneohe area down below. We did have a quick moment where it cleared up, but I wasn't fast enough to get out my camera.... or maybe I just didn't want to interrupt my lunch. However, it was still interesting to watch the clouds rolling in over the Koolaus.


---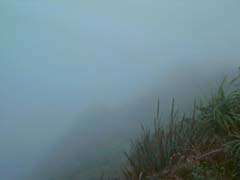 Another spectacular view. This time we are overlooking the coastline from Waimanalo to Makapuu. Its a bit spooky to look down the side of the mountain and not be able to see anything beyond 10 feet.


---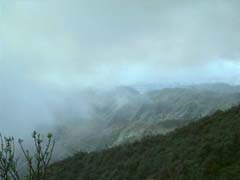 .....more clouds.


---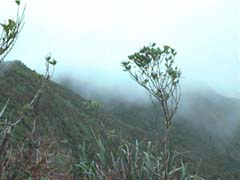 .........and more clouds.


---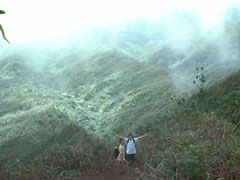 Daryn felt like doing the Y.M.C.A dance as we were leaving the summit.


---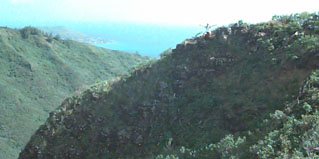 Look closely on that narrow ridge and you can see Daryn again. If you are worried about walking on that narrow ridge, don't because its not part of the trail.


---
This was a nice novice to intermidiate level hike. Its not too hard, but not too easy either where you'll feel its a waste of time. It took us 2 and a half hours to get to the summit, and 1 and a half hours to return back to the trailhead. We were unfortunate because the clouds blocked our view that day, but if you go on a nice day, the view is spectacular, overlooking the Kailua, Waimanalo, and Kaneoha Bay area.

The hike starts at the top of Hawaii Loa Ridge (where the rich houses are). You need to tell the security guards that you are going hiking, and they will give each hiker a release form to sign. The security guards were very nice because they even escorted us to the top where the trailhead was.


Recommended book for hiking directions on Hawaii Loa Ridge
---
Hawaii Hiking Gallery Homepage
---
Custom Search
Email me at: grant@tokumi.net