DATE:
&nbsp
September 13, 1999
&nbsp
WEATHER:
cool, clear, sunny
---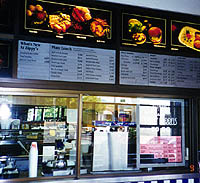 Sen Uyeunten, a friend from scouting had the day off on Tuesday, so we decided to take in some scenery. As always, stop by at Zippy's to pick up the Zippack before heading out to the trails. The mouth is watering already.

---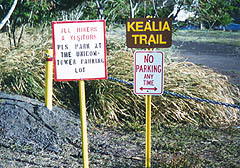 Trailhead marker inside Dillingham airfield in Mokuleia.

---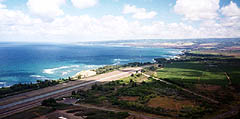 As you hike up the mountain, nice views of Mokuleia and Waialua. And if you are an aircraft freak like Sen, then awesome views of the runway strip of Dillingham airfield.

---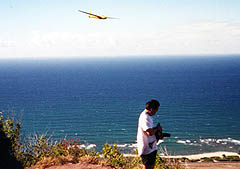 The gliders launching from the airfield come pretty close to the mountain. They use the mountain's updraft to gain elevation. We waved at a couple gliders as they passed by and could also hear the buzzing sounds from their wings. Sen sets up his camera for some shots from this nice viewpoint.

---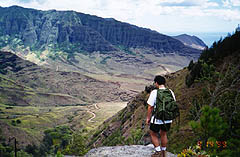 As you cross over the mountain, you get to see the otherside, which provides very nice views of Makua Gulch and the Waianae coastline.

---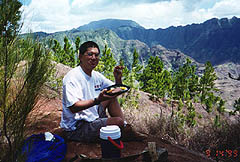 Cruising with my long awaited Zippack and nice scenery. A clear Mt. Kaala way in the back.

---
Hawaii Hiking Gallery Homepage
---
Custom Search
Email me at: grant@tokumi.net