Kalauao
DATE:
May 8, 1997
WEATHER:
cool, slight rain
HIKERS:
Kamal Pope, Kat, Daryn Ohta, Johnson Cheng, April, Grant Tokumi, , Christine Young
---
Pictures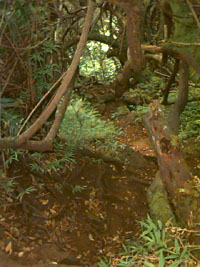 The trail begins on the Aiea Loop Trail. A turn off from the Aiea Loop Trail leads to the Kalauao hike where you start to descend down into the valley. The trail becomes steep like the picture kinda shows as you go down the mountain.


---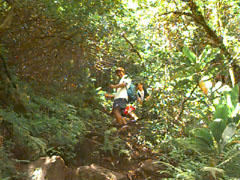 Walking in a diagonal or sideways direction is a good way to go down steep slopes with slippery surfaces. Daryn and friends saying "WASSUP!!"


---
The hike was pretty muddy that day. The brief showers that fell on us didn't make things any better either. Christine pausing to say hello.


---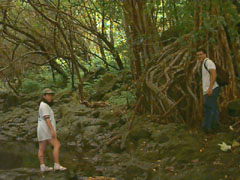 At the bottom of the valley, you reach a stream. You then have to hike up the stream some ways before you reach the swim hole. The rocks are super slippery so be careful when walking on them. Here's Kat and Kamal cruising by an interesting tree that actually rooted itself around a large boulder.


---


Abracadabra!!! Here's 7 of me cooling off after a long hike (Photoshop is a wonderful program). The steam was pretty dry that day. At least the falls at the swim hole was running a little bit. It should be flowing much stronger. The area by the waterfall is usually deep enough (the water level was low that day) so you can have a "suicide" dive contest into the pool from the high ledges.


---
| | |
| --- | --- |
| There's nothing like a rewarding swim after a long hike. This hike is maybe an intermediate level hike. When returning, you can either turn around and come back the way you came, or continue forward. The trail loops around and brings you back to another part of the Aiea Loop Trail. Don't forget to bring your swim gear and towel. | Recommended book for hiking directions on Kalauao |
---
Hawaii Hiking Gallery Homepage
---
Custom Search
Email me at: grant@tokumi.net