---
Commentary by Joshua Haley
---
Pictures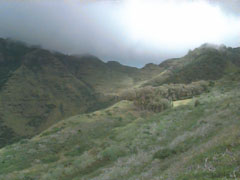 About an hour into the hike, you can see switchbacks in the valley to the left. (really hard to see in this photo.)

Dayle Turner adds:
Its an overgrown jeep road. There used to be a rock quarry at the back of the valley in the 60s and the road, now choked by California grass that is over my head in height, was used to access it.


---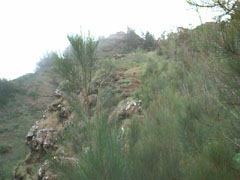 When we reached the main Koolau ridge, we looked up it and saw some goats! No joke! They were just cruising around up this side here.


---

This is a panoramic composite of the view we worked so hard to see. From left to right: Josh snacks on his cauliflower and oranges while Corey scarfs his ham sandwich with lotsa mayo. Oh yeah, the view...you can see the majority of Waimanalo with its beautiful stretch of sandy beaches. Kailua is there, but the clouds are too thick on the horizon to see it. Mahalos to Grant for the awesome steady hand he used for this panorama. Grant adds - And Mahalos to Josh for his time and Photoshop skills to put this panaramic picture together.

---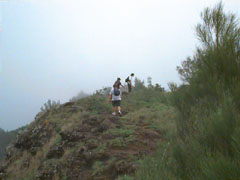 Here, we were headed towards the "off-limits" area near the intersection of Kamehame ridge and the Koolau ridge we were standing on. Little did we know that in the foggy distance was an apparrent dead-end. The first path we took led us to a steep cliff with nowhere to go but down (and fast). After back-tracking a bit, we tried plan 'B', a parallel ridge to the one we were just on. This one seemed to connect a bit smoother to the ridge we wanted to go to. When we got there, we noticed that we were basically wrong. We could have tried to "Rambo" our way around it, but daylight was running out and too many things were unknown. (Plus we wanted to make sure we could make it back home in time to go see the premiere of Return of the Jedi! Heh heh). So we decided to go back home the way we came.


---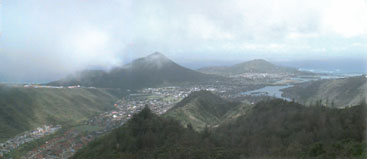 On the way back, Grant was able to get this nice mini-panorama of Kamiloiki valley (left), Kamehame Ridge (above the valley at left), Sandy Beach (small kine, at the end of Kamehame ridge), Koko Crater (center) and Koko Head (immediate right of Koko Crater) and the rest of Hawaii Kai, including Koko Marina.


---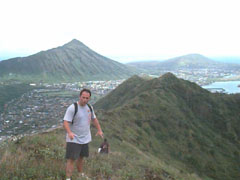 Josh stops for a pose with about an hour and a half left to go.


---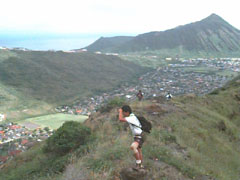 Grant gives Josh the camera and makes "A".


---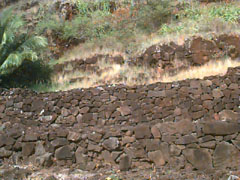 This is the starting (and finishing) point of the hike: a heiau at the end of the ridge. Nice one, too.


---
Hawaii Hiking Gallery Homepage
---
Custom Search
Email me at: grant@tokumi.net